Plaques on request, screen printed, perforated with lettering in relief.

The plates, the aluminum panels and dials as well as expressing a modern look, thanks to the aesthetic finish of the material is placed at the top for versatility, thanks mainly to the ease of processing. The "softness" is the good workability is the main pecuniarità of this alloy, used for a large number of applications including: control panels for equipment, electric and electronic apparatus, the control console of numerical control machines, of capital goods , serialization, identification products ... each application requires the resistance to conditions service operates and environmental durability.

To ensure greater resistance to chemicals and mechanical wear, it is necessary to use materials being processed, such as painting and in other cases treated by anodic oxidation, anodizing said.

The thickness of the material is determined on the basis of specific needs and still respecting parameters proportional with respect to the intended use of the product itself. Printing inks for the printing is performed with a shiny appearance and resistant to environmental agents. For specific requirements in particular contexts will be treated aluminum printing adeguato.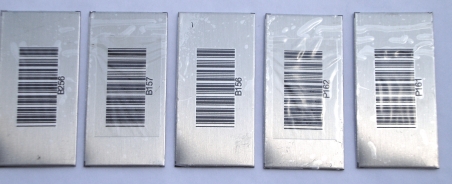 The aluminum plates, can be machined by a mechanical or numerical control laser. At the end of the processing cycle, the license plate will be ready protected with a plastic film. With the surface thus protected, can be stowed in stock in peace and be used subsequently without any time limit.
------------------------------------------------